Shop Farragut | March 2020
Win more than $400 in Gift Cards and Certificates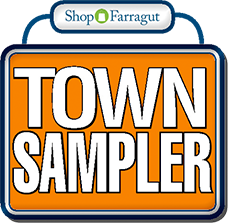 Shop Farragut wants you to WIN $650+ in Gift Cards* and Prizes to participating Farragut Retail Shops, Restaurants or Personal Service Businesses. Why would we do that? It's really simple. By giving away a gift card to one of the many retailers, restaurants or service location in Farragut, we are giving you the opportunity to get acquainted with a local business that you may never have visited.
Our goal is that you find some nice NEW places to shop, dine, or be pampered, and that you'll want to come back again and again.
MARCH (All prizes transferable) A $400 Package
Confident Smiles & Implants 1 Day VIP Package (Priceless)
$25 Gift Certificate from BK Lash & Skin Boutique
$25 gift certificate from Knoxville Academy of Martial Arts
2 Zalads at Zaxbys in Turkey Creek
BOGO Lifestyle Dining Card from HIS Security
$25 Gift Certificate from Mario's Pizza
One Amazing AIR CELL PILLOW ($199.00) from MLILY MATTRESS
* Gift cards or certificates.
Winners will be notified via email the last Friday of each month.
Powered by

Official Rules
Sorry, Registrations have closed.
Keep listening to i105 WFIV for your next chance to win.